Happy Easter! Easter the past two years has been anything but normal due to the pandemic. Parents have had to do their best to keep Easter family traditions going even though celebrating with extended family and friends is still being frowned upon. The kids always enjoy dying Easter eggs, going on Easter egg hunts, making festive treats, and waking up to an Easter basket filled with goodies from the Easter Bunny.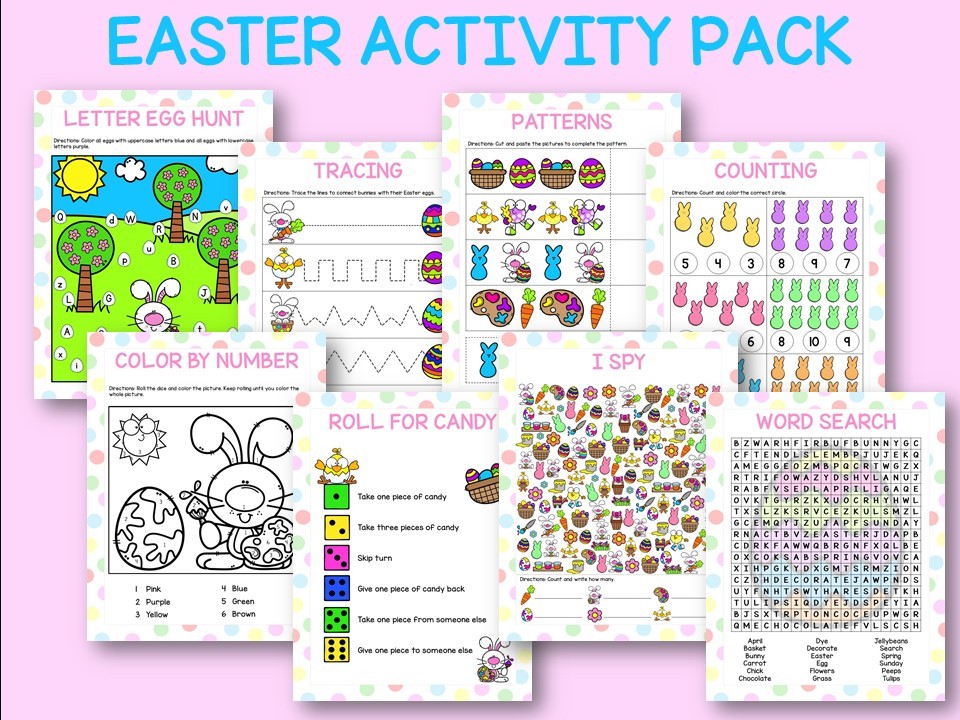 What's Included in the Free Printable Easter Activity Pack for Kids?
This activity has a variety of activity sheets for kids who are in preschool through second grade. All of these worksheets can be printed in color or black and white. Also, you can print the whole activity pack or specific pages based on your child's current skill set.
Letter Egg Hunt – This worksheet is perfect for kids who are learning letter recognition or how to spell. Ask them to identify each letter. You can even take this activity a step further and ask your child to identify an Easter-themed word that starts with each letter.
Color By Number – This worksheet can help your child identify different colors and number recognition especially numbers 1 to 10. Have your child color each section using the color code at the bottom of the worksheet.
Tracing – Many kids learn how trace lines, patterns, numbers, and letters so that they can duplicate it. This is a great activity for preschoolers or it can help your child fine tune their ability to trace neatly.
Roll for Candy – The kids will love participating in this fun activity. Simply have your child roll one die and follow the directions listed in the roll for candy Easter activity pack. They will love rolling the die for candy.
Patterns – This Easter-themed patterns worksheet is a great way to introduce pattern recognition to your preschooler. Patterns are all around us and it is important that even young children be able to recognize a pattern. A pattern is a duplicate item such as an Easter basket, egg, Easter basket, egg, etc. Check out this post from The Measured Mom for more information on teaching patterns to preschoolers.
I Spy – The "I Spy" worksheets is a fun way for your child to find hidden objects within a picture. Your child will need to count each item and see how many they can find in the worksheet. This is another worksheet that is great for teaching patterns and how to count.
Counting – The counting worksheet is another great printable for preschoolers. They will need to count each item and match it to the correct number listed below. Not only do they need to know how to count, they also need to know how to recognize their numbers too.
Word Search – Word searches are a fun activity for kids who are able to recognize and find words within a group of letters. This activity is geared for kids who are in kindergarten or higher. But that doesn't mean that you should discourage your preschooler from attempting it.
I hope your kids love my free Printable Easter Activity Pack. Please feel free to download and print copies. Don't forget to share on social media with other parents.
Note: The activity pack also includes the answers to some of the activities.
Do you think your kids would enjoy this free printable Easter Activity Pack for Kids?