Is the Bookroo Subscription box? Does your child enjoy reading books? Why not get your child a monthly subscription to Bookroo. They send out hidden gems based upon your child's age group. This subscription box not only gives them something to look forward to on a monthly basis but takes the frustration out of selecting new books to read. Bookroo was created for children ages 0 to 10 years old and designed to get your child to read new material.
Disclosure: I received a Bookroo Subscription Box in order to facilitate post. All opinions are 100% my own.
How Much Is Bookroo Subscription Box?
The Bookroo subscription box is very affordable, click here for pricing (aff link), but the box is around $25 dollars a month. Your child will receive hand-wrapped boxes inside of their box based upon their book club age group. They typically send 3 board books and 2 chapter books for your child to read. Each box is handpicked and wanted to give your child access to more book titles beyond the popular books or old classics. Bookroo took the time to create the largest platform dedicated entirely to children's books.
No More Wasting Time in Bookstores or Browsing Online for New Books
Has your child ever been to the bookstore or browsing books online? My kids have always gravitated to a certain type of book and don't want to stray away from their favorite titles. Bookroo spends the time selecting books to send out in their subscription boxes. Their process includes countless hours of research online and by talking to librarians, parents, and other children., Lots of hard work and dedication to giving your child a one-of-a-kind reading experience.
Find "Hidden Gems" Inside Bookroo Subscription Box
The goal is to send your child new "hidden gems" so it is unlikely that you will get a book that your child has already read or own. But if for some reason you get a book that your child already has, they ask that you pass the book to a friend and send them an email to get a $5.00 credit on your account.
Our Thoughts On Bookroo Subscription Box
When the package arrived, my son was excited to open it and discover what was inside. He tends to find books based upon the cover and won't give some books a chance. As he opened the Bookroo Subscription box, he was greeted with two chapter books neatly wrapped and a postcard with a summary of both books. Finding the right book for your child to read can be difficult but Bookroo hopes to make that process easier for you and your child.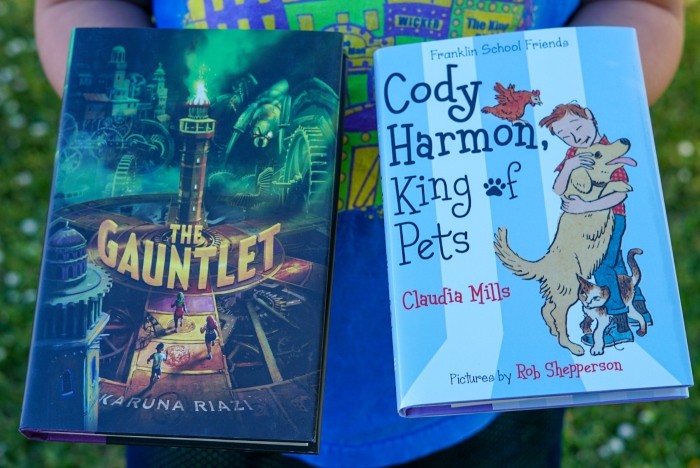 While I received a complementary Bookroo subscription box in exchange for an honest review, I would definitely consider purchasing a regular subscription for my son. It was fun watching him open his surprise and be open to reading new books that he has never heard of before giving them a chance. He hasn't had a chance to read his new books yet but he was excited that "The Gauntlet" was something he was interested in based on the cover. But we are always looking for new ways to get books especially if we can find cheap or free kids books.
Does your child struggle with reading comprehension? Bookroo Subscription Box also includes a list of all the books available to choose from. If your child, sees a book that interests them, they can easily add it to the list of books that you want to read or put on a wishlist for future reading. Also, you can find book quizzes to help your child improve their reading comprehension skills.
Order Bookroo Subscription Box Now and Get 15% Off Today

Is the Bookroo Subscription Box worth it?