Do your kids ride their bikes during the summer? If so, they should be wearing a helmet to ride. Check out these DIY Paw Patrol Bike Helmets.
Are your kids out of school yet? Summer break officially starts for my little one on Thursday. I'm excited to be able to spend some quality time together with him. We always enjoy going swimming and finding other fun activities to do together such as this fun DIY Paw Patrol Bike Helmets featuring Moto Pups.
Are you ready to "go moto go" this summer? With the upcoming release of PAW Patrol: Moto Pups, available on DVD June 1st, we're excited to share this fun DIY helmet craft inspired by Chase and the newest member of the PAW Patrol, Wild Cat! Simply post the button below to your blog/socials so that your followers and their kids can practice safety first on all their moto adventures this summer!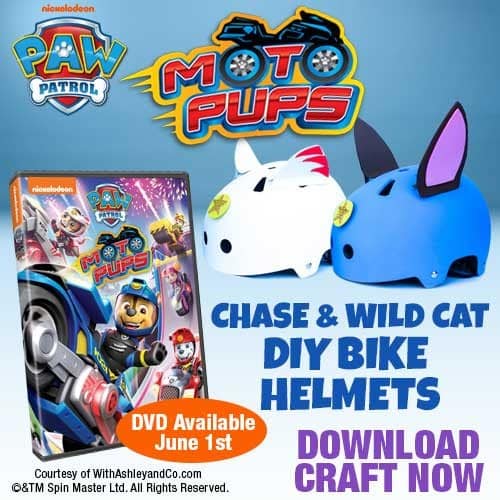 Items Needed DIY Paw Patrol Bike Helmets
You will need the following items to enjoy this fun activity. Helmets are super important if your child is riding a bicycle or even trike outside. Letting them decorate their own helmet can be used as a way to encourage them to wear it whenever riding their bicycle, trike, or even skating.
Two Helmets (One Blue and One White One)
Brown Foam Sheets
Pink Foam Sheets
Red Foam Sheets
White Foam Sheets
Yellow Foam Sheets
Template for Ears and Stripes (provided)
Yellow Star Sticker
Round Double-Sided Adhesive Fasteners
Glue Dots or Glue Gun
Scissors
Pencil
How to Make DIY Paw Patrol Bike Helmets
Print out the templates provided.
Cut out the templates to use to trace your foam decorations for your helmet.
Trace and cut out each piece on the corresponding foam pieces.
Once everything is cut out, grab your brown and white earpieces.
Use glue dots or a hot glue gun to apply a generous amount of glue on one side, leaving space at the bottom so that you can attach the ears. Fold the other side and press down. Repeat for each ear.
To make Chase's helmet, apply glue generously to the pink foam and press it onto the brown ears.
To make Wild Cat's helmet, apply glue, arrange the stripes on the side of the ear, and leave some of the stripes hanging off the edge of the ear. Cut off the excessive stripes that hang over the edge.
Using your yellow star sticker, trace a circle onto your yellow foam and cut it out.
Then place your yellow star sticker onto the yellow foam. Apply glue if it doesn't stick.
Now it's time to attach the ears to your helmet. Use the double-sided adhesive fasteners on each end of the ears and stick the fasteners together, sticky side out. Place the ears onto your helmet at a slight sideways angle. Press firm and repeat the process for each ear.
Finally, attach the yellow star sticker (Paw Patrol Badges) onto the helmet using the double-sided adhesive fasteners.
Time to go enjoy a Pawesome ride!
PAW PATROL:
MOTO PUPS
GET READY FOR A WILD RIDE AS THE PAW PATROL
WELCOMES A NEW FELINE FRIEND!
Available on DVD June 1, 2021
The PAW Patrol pack is back in the brand-new DVD release PAW Patrol: Moto Pups! Available on June 1, 2021, this DVD features the newest member of the PAW Patrol, Wild Cat, and all-new high-speed bikes and high-tech gear from the hit preschool series PAW Patrol, airing on Nickelodeon and produced by Spin Master Entertainment. The beloved pups are in for a wild ride as they stop the Ruff-Ruff Pack from trashing the town, wrangle giant runaway donuts and even gear up for an epic rescue of one of their own—Chase!
For some extra fin-tastic fun, the DVD also includes a bonus episode of Nickelodeon's brand-new preschool series Baby Shark's Big Show!, based on the world-famous pop culture phenomenon. Co-produced with SmartStudy, the global entertainment company behind the beloved children's brand Pinkfong, Baby Shark's Big Show! follows Baby Shark and his best friend William as they journey on fun-filled comedic adventures in their community of Carnivore Cove, make new friends and sing original catchy tunes along the way.
PAW Patrol: Moto Pups will be available on DVD from Paramount Home Entertainment and Nickelodeon Home Entertainment on June 1, 2021. Preorder your copy here (aff link).
PAW Patrol: Moto Pups episodes:
Pups vs the Ruff-Ruff Pack
Pups Save the Donuts
Pups Save the Kitties
Pups Save a Moto Mayor
Rescue at Twisty Top Mesa
Pups Save a Sneezy Chase
Bonus episode:
Baby Shark's Big Show!:
PAW Patrol: Moto Pups synopsis:The pack is back! The Motorcycle Stunt Show comes to town bringing famed stunt cyclist Wild Cat and the troublemaking Ruff-Ruff Pack with it. Wild Cat joins the PAW Patrol to help stop the baddies from trashing the town. Then, the Moto Pups use their tastiest tricks to wrangle giant runaway donuts, save Mayor Goodway and even rescue one of their own—Chase!
Do your kids have bike helmets? Do you think they would love to make these DIY Paw Patrol Bike Helmets?