Are my Blue's Clues fans ready for another craft? School is out for the summer but that doesn't mean the kids have to stop learning. Blue wants to help your kids continue learning new things. Today, I wanted to share with you this cute Learn with Blue: DIY Lift Flap Book Craft.
Learn With Blue: DIY Lift Flap Book Craft
Supplies Needed
Lift Flap Book Craft Template
Card Stock
Crayons, Markers, or Any Coloring Supplies
Glue
Hobby Knife or Scissors
Binding Supplies (Stapler, Hole Puncher, Washi Tape, etc)
Directions
Print Out the Template on Cardstock or Construction Paper
Have Your Child Color Pages 1, 2, 3, 4, and 9.
Using a Hobby Knife or Scissors Cut Out 3 Sides of Boxes on Pages 2, 4, 6, and 8.
Glue Pages 2 and 3 Together So That the Pictures Show in the Corresponding Boxes. Continue for Pages 4 and 5, 6 and 7, 8 and 9.
Bind Your Book Together However you Want To! Staple and Cover the Spine with your Favorite Ribbon or Washi Tape, Punch Holes and Tie with Ribbon, etc.
Download the Directions and Book Template Here
MAKE LEARNING FUN WITH BLUE IN THE ALL-NEW DVD!
BLUE'S CLUES & YOU! LET'S LEARN WITH BLUE
Available on DVD May 24, 2022!
LOS ANGELES– April 25, 2021– Clue into lots of play-along learning with Blue and Josh in the brand-new DVD release, Blue's Clues & You! Let's Learn With Blue. Available on May 24, 2022, kids will search for Blue's Clues while playing active skill-building games along the way to help them learn their ABCs, 123s, colors, and science in four play-to-learn episodes.

Blue's Clues & You! Let's Learn With Blue will be available on DVD from Paramount Home Entertainment and Nickelodeon Home Entertainment on May 24, 2022. Purchase your DVD here. (aff link)

Blue's Clues & You! Let's Learn With Blue episodes:
ABCs with Blue
123s with Blue
Science with Blue
Colors Everywhere with Blue
Blue's Clues & You! Let's Learn With Blue synopsis:
Join Blue, Josh, and their friends for clue-filled learning games! First, Blue will help kids learn their ABCs … and practice letter recognition and sound too. Next up, Josh is COUNTING on preschoolers to help him with his 123s as he counts Blue Dollars and figures out what Blue wants to buy at the store. By asking kids direct questions like he always does, Josh invites them to learn about science: examining the world through a magnifying glass, meeting the Sun, and learning the Planets Song too. And preschoolers will learn clue into colors and even color mixing as they help Josh and Blue paint a picture of their friends. Kids will love to learn and play the Blue's Clues & You! way!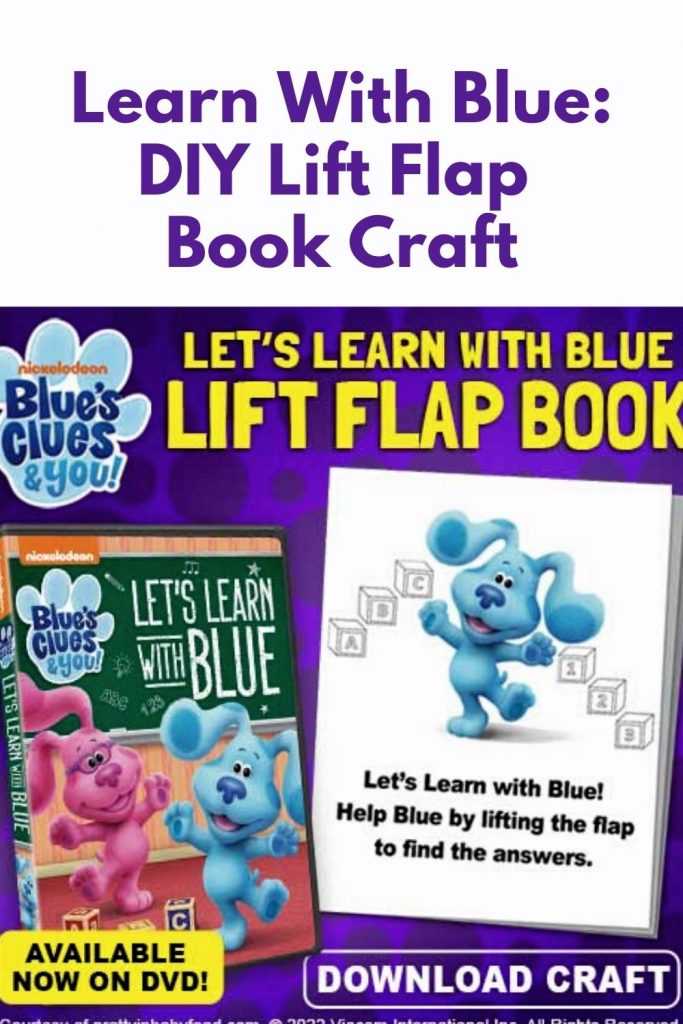 Do you plan on making the Learn With Blue: DIY Lift Flap Book Craft with your child?