Do your kids love eating fun and festive Halloween treats? My son always comes home from school hangry. The moment that I get him from the school pick-up line, he is already asking for dinner even though dinner is several hours away.
I have been planning to make him some fun Halloween treats but I can't decide which ones to make. There are just so many cute Halloween treats on Pinterest and we would love to have you vote which one you like the best.
Mini Frankenstein Cheesecakes
Our family loves eating cheesecake for dessert and it is a treat that even my 7-year-old will devour without a second thought. So these mini Frankenstein cheesecakes are one of my favorites. However, finding a mini cheesecake pan might prove to be difficult on short notice. I don't think a muffin tin would work very well in this instance. Bummer! If you have a mini cheesecake pan, you can find the recipe and tutorial here.
Monster Bark
Making bark is a super easy treat that you can make for your kids for any holiday imaginable and for Halloween this Monster Bark is perfect. Bark only takes a few minutes and it is perfect as a last minute treat to take to your Halloween party. Find the recipe and directions here.
Halloween Twinkie Chocolate Bats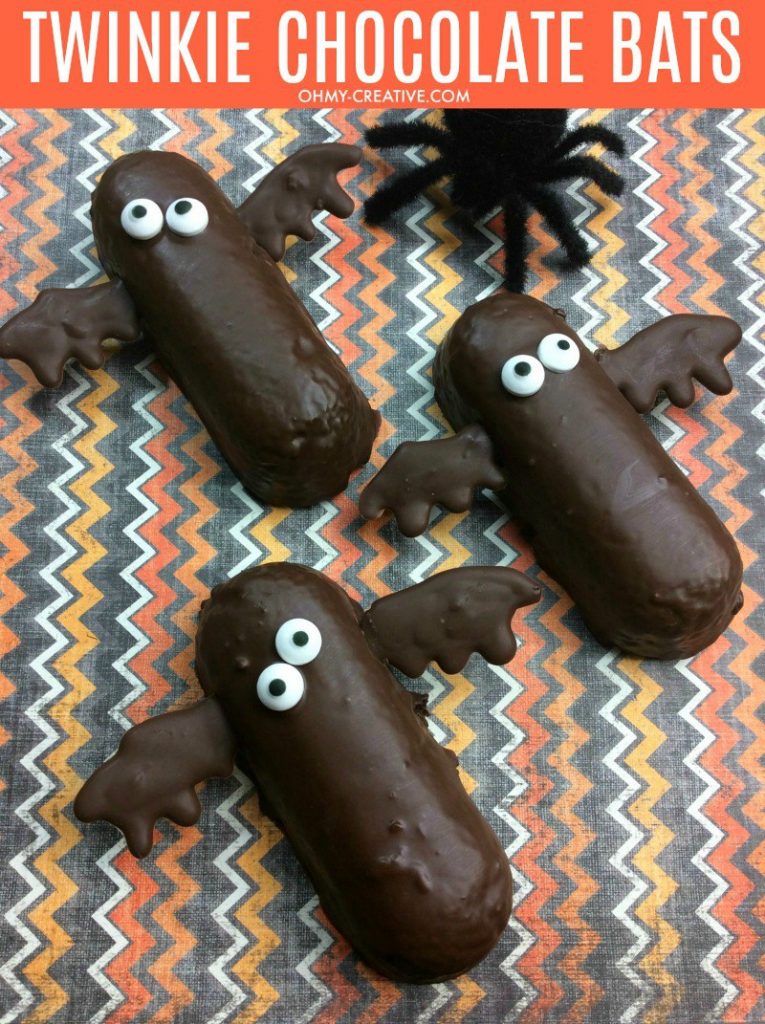 Twinkies were one of my favorite desserts when I was growing up and my mom was never creative enough to dip them in chocolate either. Oh well, she made up for it with her other desserts. 🙂 These Halloween treats combine the best of both worlds chocolate and twinkies. I can hear my son's reaction now, he would think these twinkie bats are the coolest thing ever. You can find out how to make them here.
Pumpkin Oreos
Oreos are another family favorite and my son would love these cute pumpkin oreo cookies. The great thing about these cookies, you can use flavored Oreos like Pumpkin Spice, Traditional Oreos, Double Stuffed, or even Oreos with orange icing for Halloween. While these seem like a ton of work, I am sure there are tricks to make dunking them in chocolate easier. You can even get the kids to help you make these treats too. Find the tutorial here.
Halloween Cake Pops
Cake pops are supposedly super easy to make but this mama hasn't given it a try yet. I've just started trying to bake more homemade cakes and other goodies so maybe these will make the cut. I love these because they are so versatile and you can even vary the colors of chocolate to make different colored monsters too. Find three cake pop tutorials here along with some pro tips on how to make the perfect cake pops.
Oreo Cookie Spiders
These cute Oreo Cookie Spiders are the perfect treat to serve for a snack on Halloween to your kids. They are also an easy treat to take to your next Halloween party. If your child's school allows time for building Halloween treats, you could even get parents to volunteer to bring the ingredients so that your child's entire class could make these cute Halloween spider cookies. Find the tutorial here.
Pumpkin Patch Dirt Cups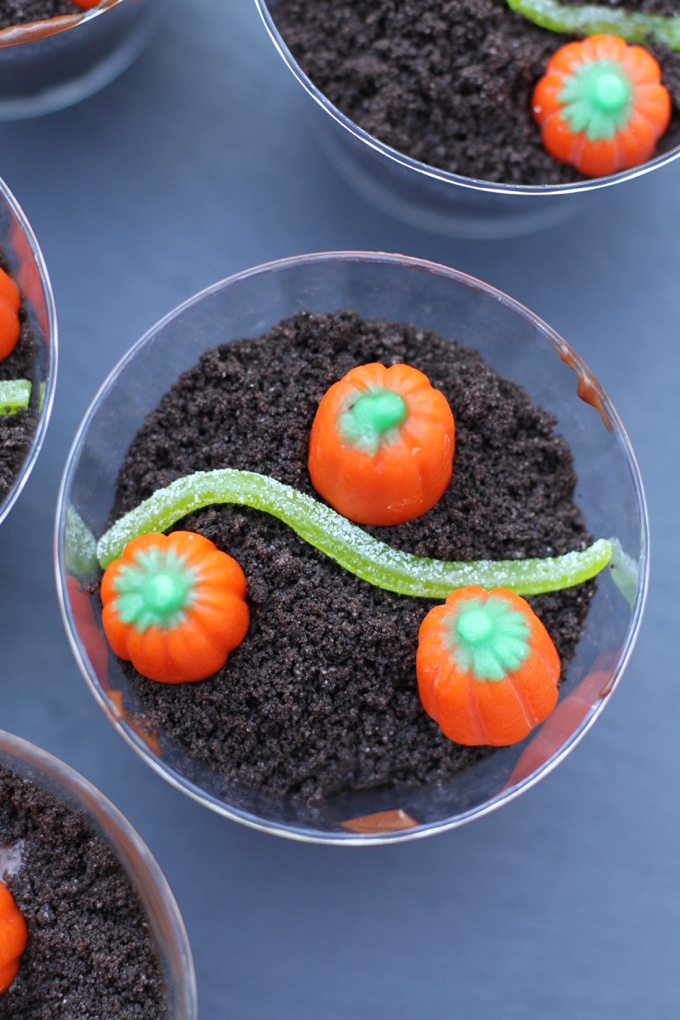 Dirt cups are a fun and tasty treat that kids love. This Halloween version of the popular treat is perfect to serve the kids for a snack on Halloween. Find the tutorial here.
Witch Hat Surprise Cookies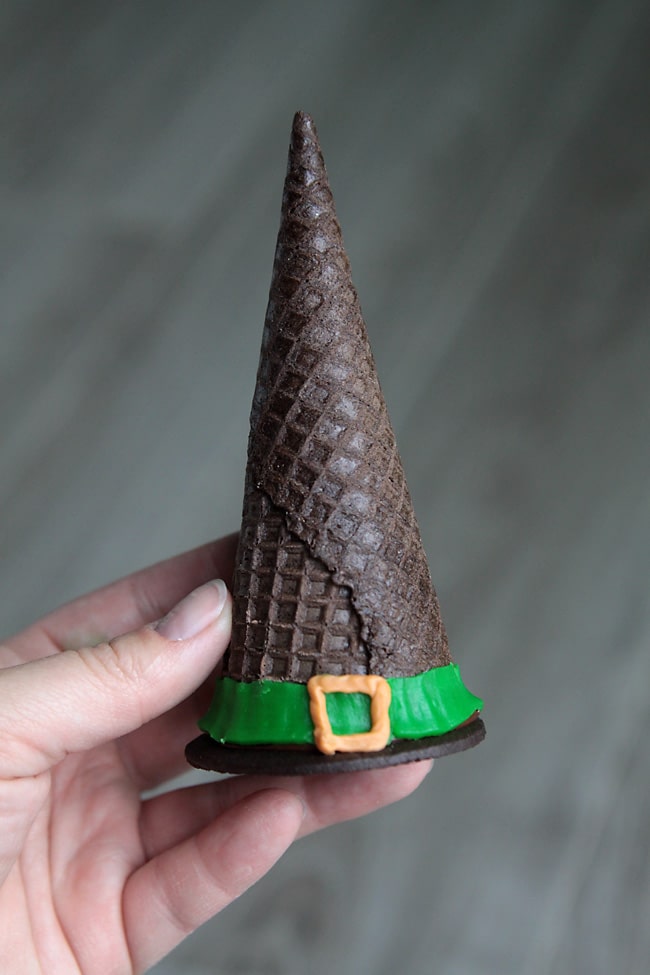 If you don't have a ton of time to prepare your kid's a tasty Halloween treat before they get home from school, then this fun recipe is for you. These witch hat surprise cookies are super easy to make and your kids will be thrilled with the fun surprise inside of the cone. Check out the full tutorial here.
No-Bake Witches Hat Cookies
Are you having trouble finding the time to make fancy Halloween treats for your kids? These no-bake witches hat cookies are quick and easy to make and they won't disappoint your kids either. Find the directions here.
Melted Jack O' Lantern Brownies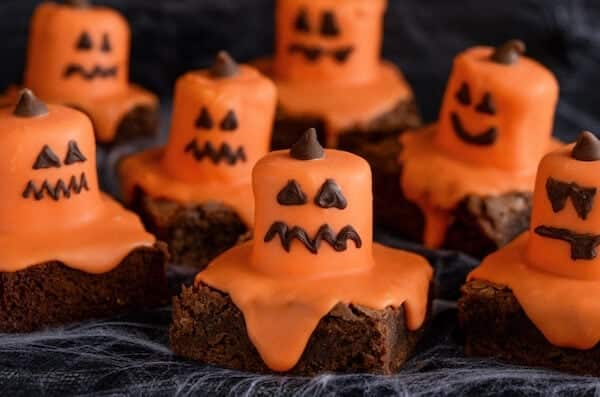 Brownies are one of my son's favorite desserts and he would love it if I made this festive Halloween treat for him. All you need is a box of your favorite brownie mix, orange, and black chocolate melts, and the large marshmallows. Follow the directions here to make these fun treats.
Halloween is a few days away and I still haven't decided on which kid-friendly Halloween treats to make for my son. Every year he always tells me that Halloween is one of his favorite holidays and he always looks forward to it every year. I'm sure it is his favorite because Halloween is all about candy, pumpkins, fall activities, and Halloween treats.
Which of these kid-friendly Halloween treats do you think your kids would love for an after-school snack?