My kids love coming home and finding fun festive treats. I love these Thanksgiving treats for kids. Let's take a look at all the fun treats your kids can help you make.
Turkey Cracker Snacks for Kids
Schools today are picky when it comes to bringing treats from home to share with the class. These Turkey cracker snacks are perfect because Michelle from Crafty Morning used the crackers and cheese packages to make the snack. Jump over to her blog for the materials and tutorial on how to make them.
Turkey Popcorn Treat Bags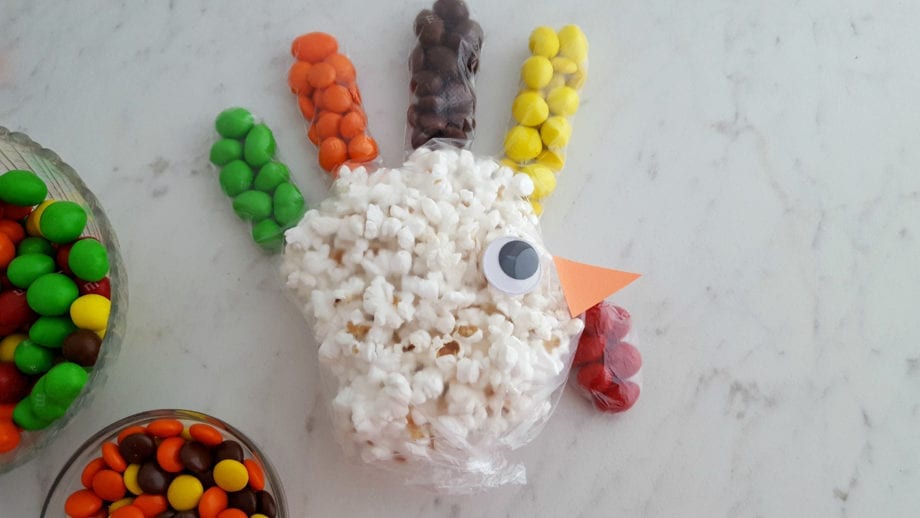 This is a great treat that the kids can put together during a class party or while you are preparing the Thanksgiving meal. Head over to Megan's blog JaMonkey for a list of ingredients, supplies, and tutorial here.
Prepackaged Thanksgiving Turkey Cookies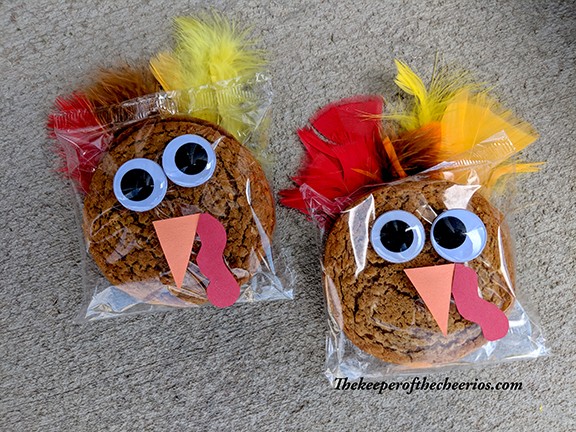 These cute Thanksgiving Turkey cookies are prepackaged and perfect to send to school or your kids can put them together for friends and family. Head over to the Keeper of the Cheerios Blog for the full tutorial.
Rice Krispie Treat Pumpkins
Rice Krispie treats are always a hit with the kid but these pumpkins are super cute. I'll warn you now they are messy to make but Debbie, at One Little Project, figured out how to master the mess and make these Thanksgiving treats. Check out her tutorial here.
Pretzel Turkeys with Peanut Butter Cups
Make these cute pretzel turkeys with peanut butter cups. Head over to Live Craft Eat for the full tutorial.
Reese's Candy Turkeys
These Reese's Candy Turkeys are super adorable and super easy to make. Head over to "cents"able wife's blog for the full tutorial.
Easy Oreo Turkey Cookies
Want a Thanksgiving treat for the kids that are super easy to make? The Easy Oreo Turkey cookies are simple enough for your kids to help make them. Head over to Cake Whiz for the full tutorial.
Thanksgiving Cookies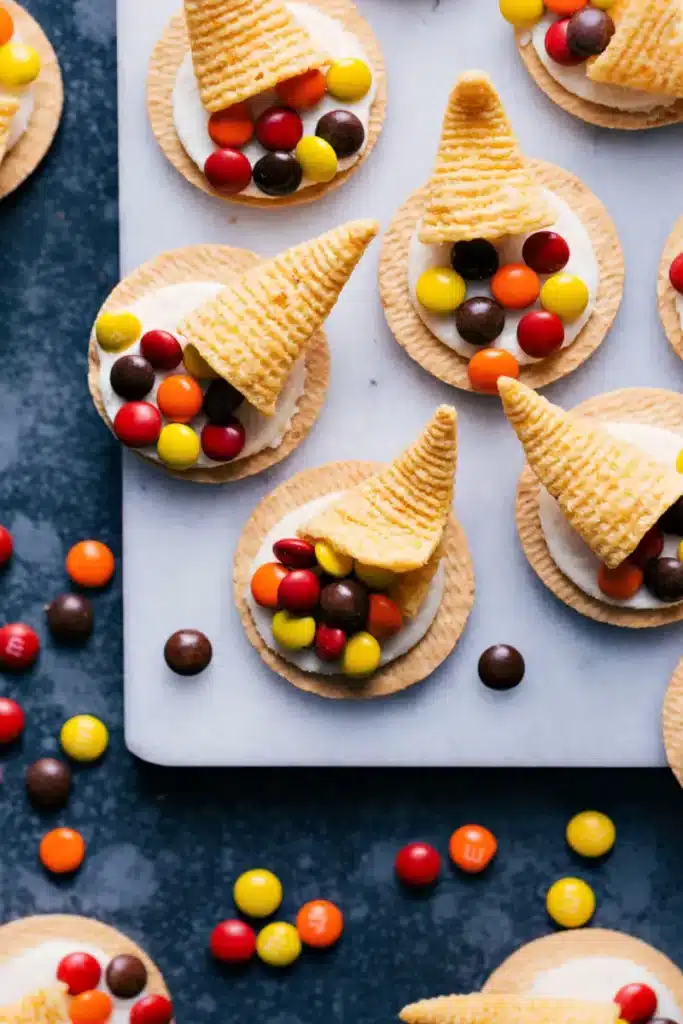 The cornucopia means horn of plenty. If you make these cookies, use this as an opportunity for your kids to express gratitude and Thanksgiving for all the blessings in their life. Anyhow, back to the cookies, head over to Chelsea's Messy Apron for the full tutorial.
No-Bake Pilgrim Hat Cookies
I love these cute pilgrim hat cookies. If it wasn't for the peanut butter, these would make a great classroom craft for the kids to do at Thanksgiving. Head over to Savory Experiments for the full tutorial.
Turkey Cupcakes
Are you looking for an easy cupcake to make for Thanksgiving? These turkey cupcakes are easy to make and you don't have to be a professional. Head over to Sugar and Soul for the full tutorial.
Chocolate Covered Pretzel Rods in a Turkey Jar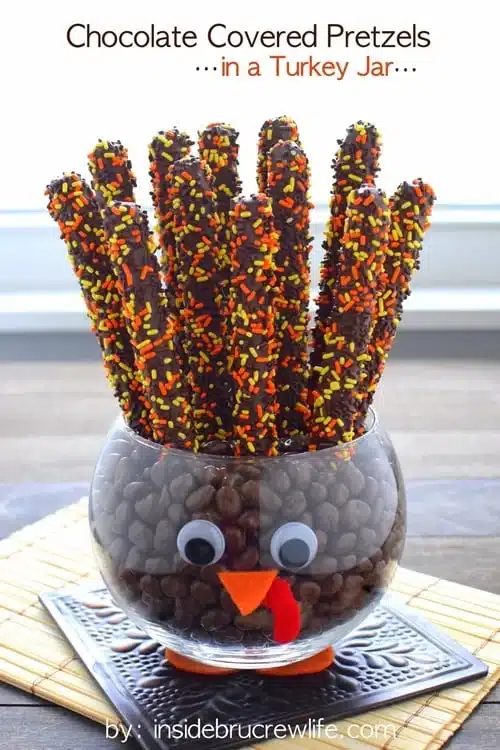 These are the cutest Thanksgiving treats for kids that I have come across. The pretzel rods make up the feathers. Head over to Inside BruCrew Life blog and learn how to make this easy dessert for Thanksgiving.
Scarecrow Snack Packs
Are you looking for a kid-friendly classroom snack? You can't go wrong with these scarecrow snack packs. Head over to Fork and Bean for the full tutorial.
Chocolate Acorns
Check out these chocolate acorns. They are super simple to make and they are perfect for fall or Thanksgiving. Head over to BellyFull for directions.
Candy Pretzel Turkey Bites
I love these candy pretzel turkey bites. They are super cute and easy to make. Head over to Suburban Simplicity for the full directions.
Teepee Dirt Cups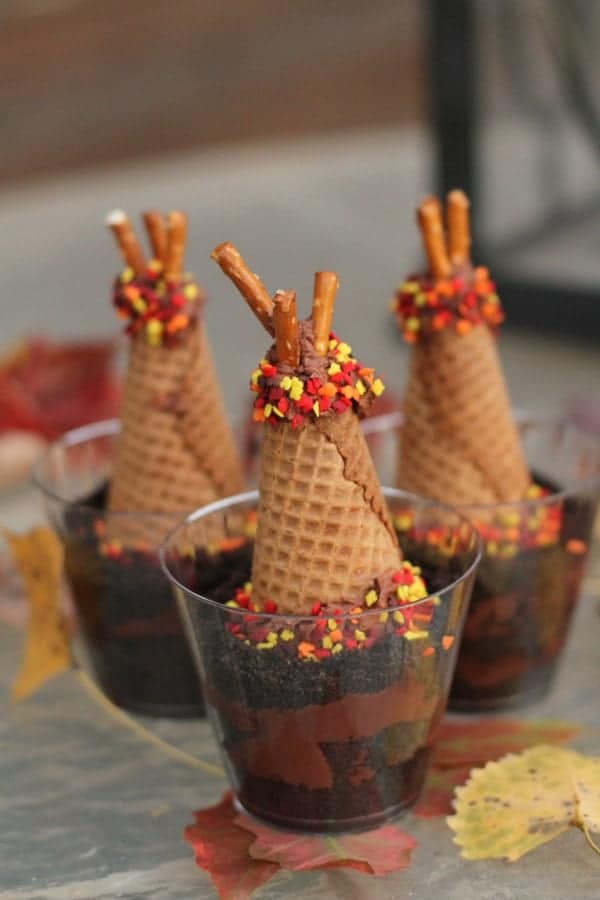 The Teepee Dirt cups are a great way to introduce your child to our past history of the first Thanksgiving. Head over to I Can Teach My Child for the tutorial.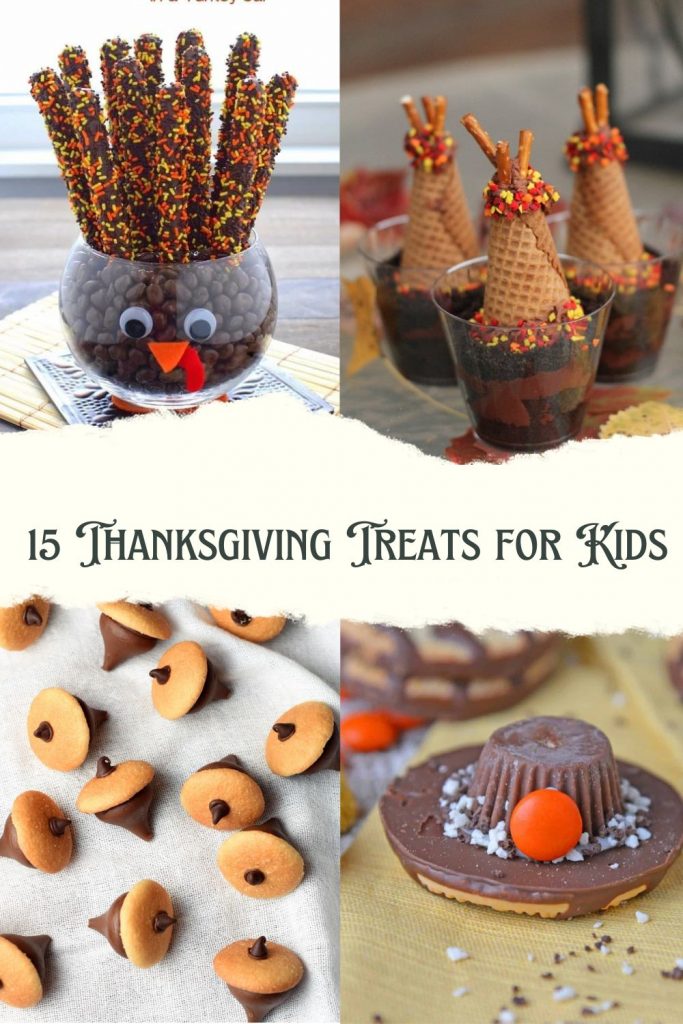 Which one of these 15 Thanksgiving Treats for Kids will you make with your children?