Let's make some Under the Sea Rice Krispie treats inspired by Bubble Guppies: Fin-tastic Fairy Tales! Now for the fun part, time to make our treats.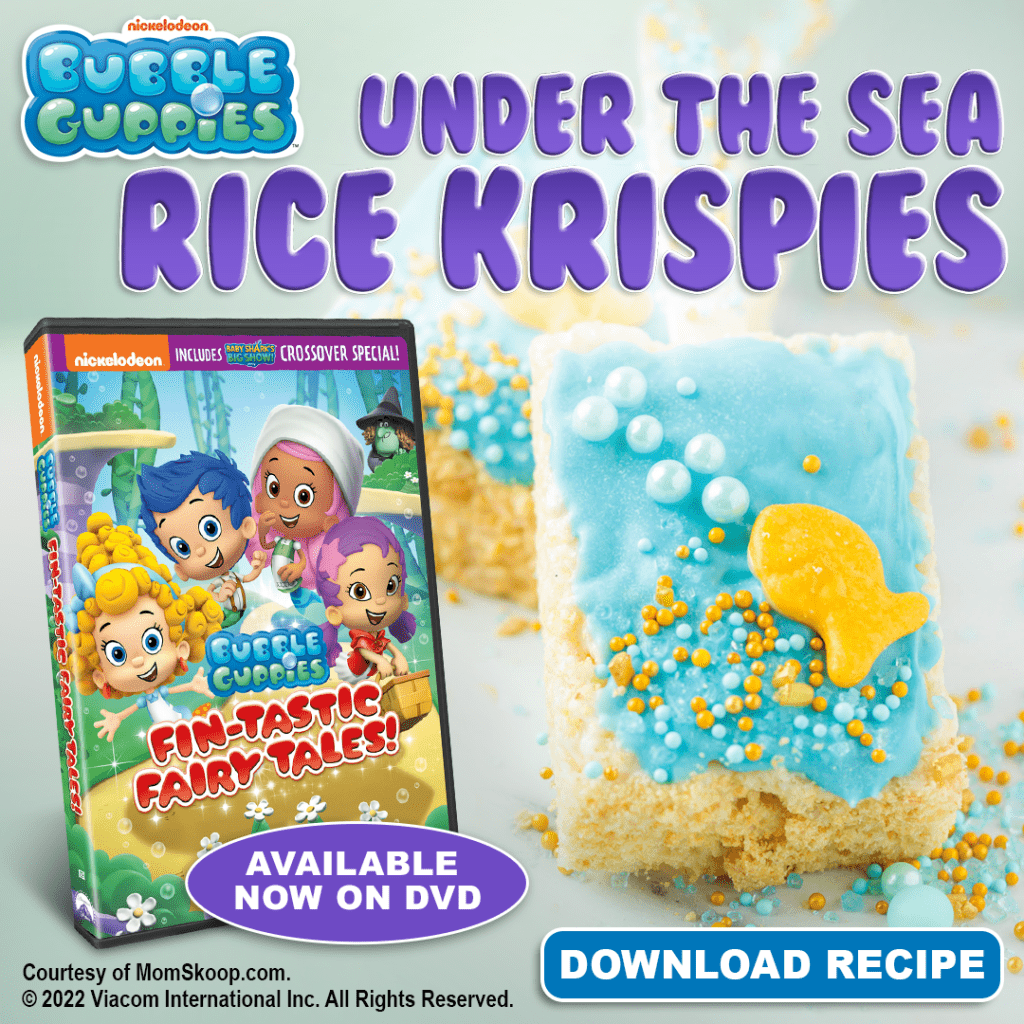 Ingredients Needed
Grab the following items from the grocery store:
6 Rice Krispie Treats (Can be store-bought or homemade)
6 Gold Fish
Light Blue Candy Melts
Ocean Breeze Sprinkle Mix (aff link)
Graham Crackers Crushed (optional)
Supplies Needed
Gather these supplies:
Popsicle Sticks
Spoon
Bowl
Large Plastic Bag
Silicone Mat or Parchment Paper
Instructions to Make 6 Servings (but you can make more) Under the Sea Rice Krispies Treats
Unwrap the Rice Krispie treats and lay them on your silicone mat or parchment paper.
Insert the popsicle stick into the bottom center of your Rice Krispie treat.
Melt 1 cup of light blue candy melts according to the directions on the back of the package.
Spoon the melted chocolate over the Rice Krispie treats.
Place a gold fish and blue or white pearls to represent bubbles at the top. Add sprinkles.
Melt a few more candy melts and drizzle or dip the popsicle stick in it. Place sprinkles on the popsicle sticks and allows the chocolate to harden so that the sprinkles stay.
Lay the treats down and let them dry.
While the treats are drying, place several graham crackers in a large zippered bag and crush them using a rolling pin or mallet.
After the treats are dry, place the crushed graham crackers on a plate. Then add the Rice Krispie treats and serve.
Download the Instruction Sheet Here
BUBBLE GUPPIES: FIN-TASTIC FAIRY TALES!
THE BUBBLE GUPPIES JOURNEY INTO ALL-NEW UNDERWATER QUESTS!
Available on DVD August 2, 2022
Join the Bubble Guppies gang and their beloved animal pets as they share fantastical stories in Bubble Guppies: Fin-tastic Fairy Tales! This DVD features classic fairy tales with a Bubble Guppies twist, and a very special appearance from your favorite Baby Shark characters!
Bubble Guppies: Fin-tastic Fairy Tales! will be available on DVD from Paramount Home Entertainment and Nickelodeon Home Entertainment on August 2, 2022. You can now purchase it here.
Bubble Guppies: Fin-tastic Fairy Tales! episodes:
Bubble Puppy's Fin-tastic Fairy Tale
Kingdom of Clean
A Furry Tale!
Alison in Wonderland!
A Baby Sharkventure! (Baby Shark's Big Show Crossover)
Bubble Guppies: Fin-tastic Fairy Tales synopsis:
Join the Bubble Guppies in the most fin-tastic fairy tales of all! First, a witch turns Bubble Puppy into a frog and Molly and Gil need to team up with this fairytale friends to undo her mean green spell! Next, Hansel and Gretel must get Bubble Puppy and Bubble Kitty home safe to their Furry Godmother. Finally, we meet Alison in a place called Wonderland and need to stop the Queen of Hearts from banning Friendship Day across the land!
Will you make these Under the Sea Rice Krispie Treats?