Are you looking for a kid-friendly Easter treat to make this year? The bunny butt recipes are super adorable and we think your kids would love them too. We think you would love these kid-friendly Easter Bunny Butt Desserts too.
Top 12 Easter Bunny Butt Desserts
I'm super impressed with the creativity that some of these bloggers have in order to create these adorable bunny tail recipes to share with everyone. Whether you are looking for cookies, cupcakes, cake, brownies and more, we found the top Easter bunny butt recipes to share with you.
Bunny Butt Cake Pops
Take your cake pops to the next level this Easter. Cake pops are the perfect sized treat, especially for small hands. Head over to Mom's and Munchkins for the full tutorial for these adorable cake pops.
Easter Bunny Butt Oreo Pops
Oreo cookies are always a welcome treat for the kids and kids at heart. We love that these cute oreo pops are easy to make and don't require turning on the oven. Your kids won't complain about these either. Head over to See Vanessa Craft for the full tutorial here.
Bunny Butt Cupcakes Without Coconut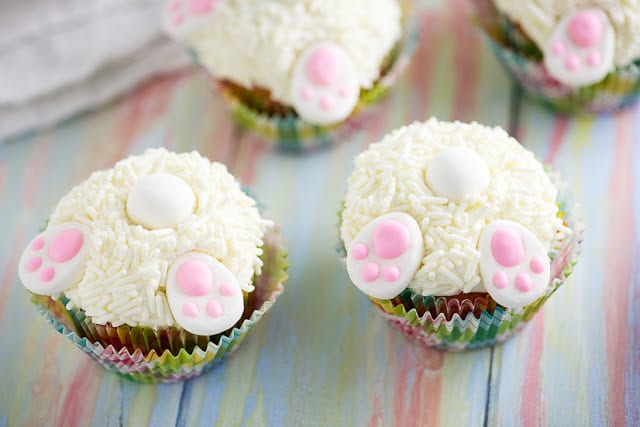 Most of the bunny butt cupcakes usually use coconut flakes for the "fur" and when we stumbled across these cupcakes we knew that they would be a winner with the kids. Michelle used strawberry cake mix for the cupcake but if your kids aren't a fan, you can pick another cake mix. Once you have your cupcakes made, head over to The Gracious Wife's blog for the full tutorial.
Bunny Butt Cupcakes with Buttercream Icing
Who loves buttercream icing? *raises hand* Even my kids love the sweet, savory taste of the rich buttercream icing. The moment we saw these, we knew what we had to share them with you. Amanda made her cupcakes with lemon cake mix but we all know that kids are picky so you can easily swap it out for yellow or even chocolate cupcakes (for a dirt look). Once your cupcakes are ready to be iced, head over to Amanda's site, I Am Baker, for the full tutorial on how to make these adorable Easter cupcakes.
Easter Bunny Butt Cookies with Homemade Royal Icing
Oh my goodness! Cookies are always a kid-friendly treat that even the pickiest eater won't pass up. Mom's you can even pass up the tub full of icing that never goes on evenly and makes it look like a child decorated the cookies. Even though I haven't used royal icing, it doesn't seem hard to make decorated cookies that you can find in a bakery. If your struggling, try these tips from Betty Crocker. Head over to Jill's blog, Kitchen Fun with my 3 Sons, for the recipe and full tutorial.
Easy Bunny Butt Pretzels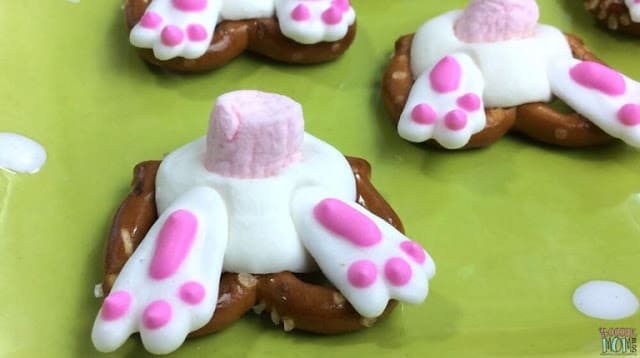 Grab your kids and let them help you make these adorable treats for Easter. These are perfect Easter treat if you are a huge fan of sweet n salty combinations. We suggest that you work in smaller batches especially if the kids can help you make these pretzels. Once you are ready to make these fun Easter treats, head over to Stacey's website, The Soccer Mom Blog, for the full tutorial.
Easter Bunny Butt Ice Cream Cones
Ice cream anyone? We thought these ice cream cones were a quick and easy treat for the entire family. The bunny paws are made using marshmallows and edible pen. But in a few other the other posts, we noticed that you can buy pre-made Wilton chocolate Easter bunny feet. If you find that the feet don't want to stick to the ice cream, we suggest adding a small dot of icing or a dab of nutella to use as glue to keep them attached to the ice cream. Head over to Beth's blog, Hungry Happenings, to find the full tutorial to make these fun ice cream cones for Easter.
Easter Bunny Butt Cupcakes with Coconut and Buttercream Icing
Growing up my grandmother used to make recipes using shredded coconut. As a kid, I never cared for the texture nor the taste. I refuse to try it as an adult because I rather have real shaved coconut pieces. Just because I am not a fan of shredded coconut, I know that other people love it. For this recipe, you can make half n half, especially, if you know that your kids won't touch it. For the full recipe and tutorial, head over to Just Plum Crazy and follow the directions here.
Bunny Butt Brownies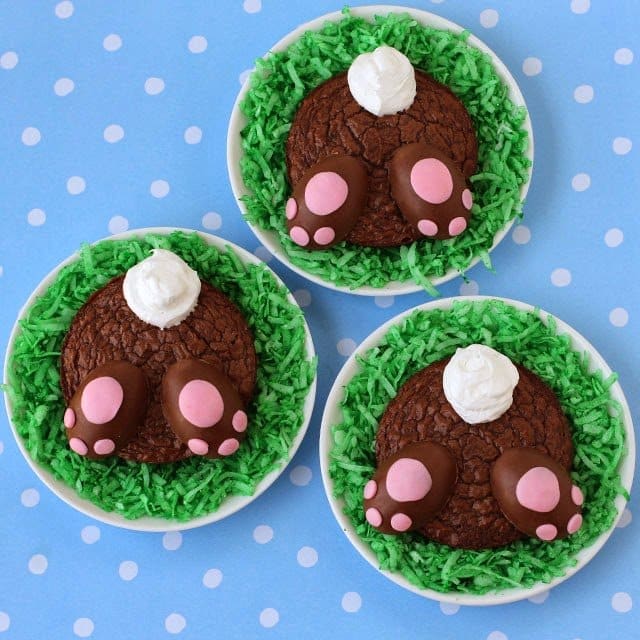 Brownies are one of my favorite desserts and I haven't ever seen a kid turn down chocolate. Again Beth created a cute Easter dessert. She did use green coconut flakes for the grass but you could use buttercream icing or put the brownie on a bed of mint chocolate chip ice cream. For the complete tutorial visit Hungry Happenings here.
Bunny Bum Sundaes
As you already know from the name of this blog, we love ice cream. So this Easter Bum Sundae is the perfect addition to this roundup of kid-friendly Easter treats. Head over to Julee's blog, D.I.Y. Louisville, for the complete tutorial.
Easter Bunny Butt Carrot Cake
I tried really hard to find a recipe that didn't include coconut since kids aren't usually a fan. We wanted to share with you this tutorial so that you can customize your own cake. Instead of the coconut, you can use white buttercream or cream cheese icing. Then use Wilton's tutorial to create piped fur for your bunny. As always, you can even use a different cake mix that is a bit more kid-friendly. Visit Joanne's blog, No Plate Like Home, for the full tutorial.
Easter Bunny Butt Pudding Cups
Chocolate pudding is one of our favorite kid-friendly treats. If you don't want your child to have a bunch of sugar, you can even use the sugar-free pudding cups to lower the overall sugar count of this easy Easter snack. Stephanie at Parenting Chaos, has a huge collection of educational information and autism articles too. For the full tutorial head over to her blog and give this post some love. Our timeline has been filled with tons of Easter desserts; however, the bunny butt desserts were one of our favorites. These Easter desserts are all kid-friendly and we promise they will receive two thumbs up.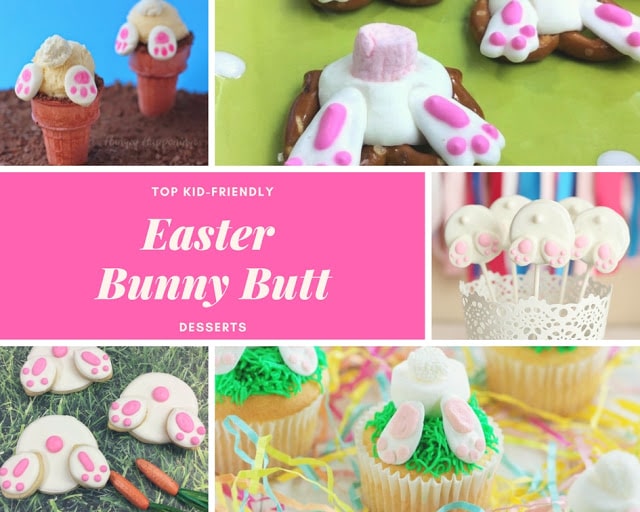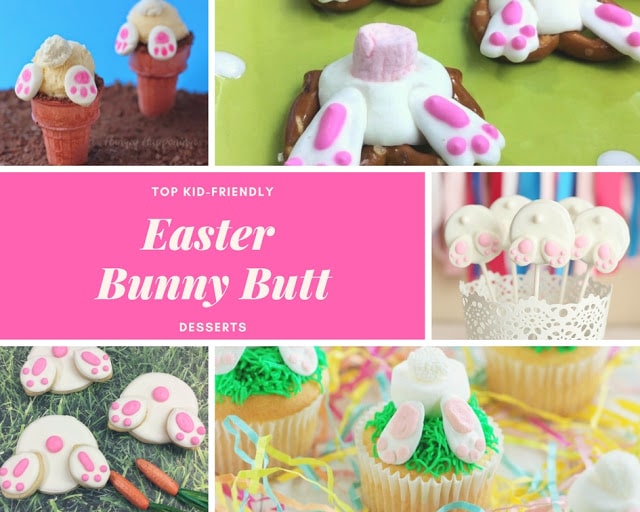 Do you think your kids would love and enjoy these kid-friendly Easter bunny butt desserts?