When looking for gifts, jewelry for teens is nearly always a smart move. Jewelry is a great way to show off your own personal style and have fun with fashion, even if you prefer a more comfortable wardrobe. Adding unique jewelry pieces that can be mixed and matched is a great way to make the most of your wardrobe. When shopping for jewelry for teens, keep in mind that teens are constantly changing their style and want to wear the latest trends.
When shopping for jewelry, consider your teen's personal style. Right now, bright neons and brooding gothic styles are both very popular but these may not fit your teenager's personality. If you are unsure of the style that best fits the teen you are shopping for, you can go with a simple silver or gunmetal that will blend well with both styles as well as give the option for a more vintage look.
Fun and Unique Jewelry For Teens
Pinky Rings
These smaller than normal rings are a great way to show off more personality in your jewelry choices. You can do so much more with rings now than simply wear them on your ring finger. A pinky ring is a great way to wear a ring on your left hand while leaving the ring finger open. These same smaller rings will often fit perfectly on the middle section of one of your teen's other fingers giving them even more flexibility with their style. I suggest grabbing a few pinky rings in popular metals like gunmetal and rose gold, or going funky with a couple of bright colors or a stormy black depending on your teen's style.
Rings made out of interesting items that are not rings are very popular with teens right now. If you are looking for a great gift and are not crafty yourself, you can buy rings made from simple and unique things like old spoons on sites like Etsy or at your local craft fair. Not only do these creative items have a unique personality to them they also help to reduce waste by recycling an old, often discarded item. Many teens are passionate about making the world a better place and making green changes for the environment. This is one way you can help make your teen feel like you care about what they care about.
Layering Bracelets
Layering bracelets look great and can be customized to show off your teen's style. Having several bracelets to choose from and layer together as they see fit can help your teen express their sense of style and match any outfit. Custom stamped bangles can make a great layering bracelet that allows you to impart a bit of advice to the gift receiver.
Add a unique layer with a bracelet that helps to clean the environment. 4Ocean hand-crafted bracelets help to remove plastic from our oceans. For each of the 4ocean Bracelets sold, helps remove plastic from our oceans. Each bracelet purchased also helps pull 1 pound of plastic from the ocean while also providing a living wage for the crafters that hand make these bracelets in Bali. This bracelet is perfect for teens who are on a mission for a better world would find this bracelet to be the perfect piece to add to their jewelry collection.
Wrap Bracelets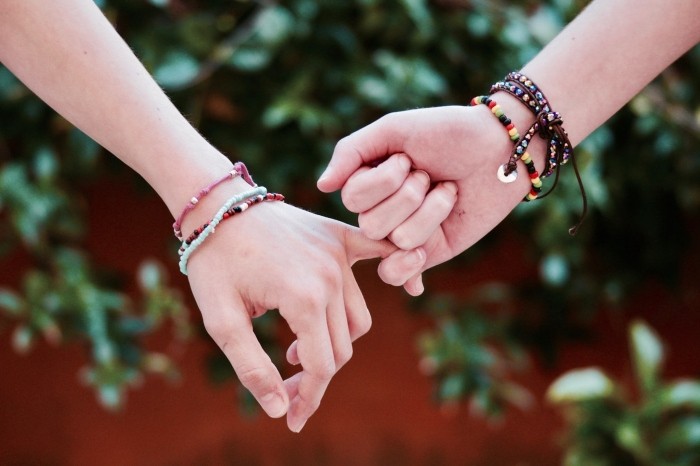 Wrap bracelets are similar to layering bracelets and may be designed to look like layered bracelets to help make getting ready for the day faster. These bracelets often have real minerals and gemstones mixed in that are popular for their meanings. Look for a hand-crafted one on Etsy or see if a local crafter can make you one to fit your teen's personality. Look for ones with a pop of bright neon color, or go for a gothic look. When shopping for a simple teen style, try leather wrap bracelets are a fun and popular choice.
MisMatched Earrings
Mismatched earrings are in right now. This usually includes a very different look between the two, often one is more of a bold statement. For a more subdued look, you can go with a simple miss-match like a moon and a star in the same general style. You can often find large sets of parking that go well together and make for a good variety for mixing and matching.
Big Bulky Hoop Earrings
Big bulky hoops are popular right now. Resin art has allowed for a lightweight hoop in a variety of fun shapes and colors. With this style, you can even get hoop earrings with dried flowers inside.
Beaded Chokers
Beaded chokers are big with teens right now. For a unique twist layer with a simple chain with a custom charm with your teen's name. This will give them a great layered look that can be split as styles change. Large chunky chains are fun for layering if beads are not your style. Add charms such as locks or keys. If you want a unique charm look for a cool design by a resin artist to add a unique one-of-a-kind pop to any chain of your choice.
Shopping for teens can be challenging but you can't go wrong buying any of these unique jewelry pieces for teens. Adding jewelry is a great way for your teenager to express their personality while remaining fashionable. Plus, jewelry is a timeless piece and it is less likely to go out of style in a short period of time. Grab a few different pieces from this list of unique jewelry for teens and let their imagination run wild.
What piece of unique jewelry for teens do you think your teenager would enjoy the most?