Class is dismissed and summer has officially begun. My son loves his snacks during the day, so I found these Paw Patrol Moto Pups Fruit Kabobs. During the summer months, we typically spend a great deal of time outside, at the swimming pool, or enjoy a day at home to relax. But with all the fun summer activities going on, my kids seem to be hungry all of the time. While I don't mind a treat here or there, I do try to find healthy snacks for them to eat. These Fruit Kabobs inspired by Paw Patrol are not only healthy but they are fun too.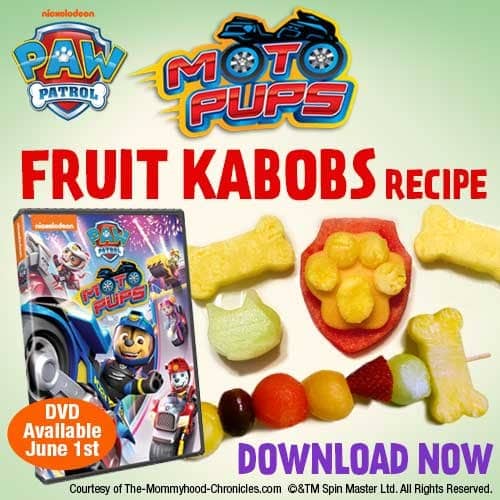 Ingredients Needed to Make Paw Patrol Moto Pups Fruit Kabobs
To make these Paw Patrol Moto Pups Fruit Kabobs, you will need the purchase the following items from the grocery store.
Watermelon
Cantaloupe
Honey Dew Melon
Grapes
Pineapple
Strawberries
Any Other Fruit
Wooden Kabob Skewers
Paw Patrol Cookie Cutters
Instructions for Making Paw Patrol Moto Pups Fruit Kabobs
Slice the desired fruit evenly into 1/2 in pieces. Do your best to avoid any seeds and as much of the rind as possible.
Use the Paw Patrol Cookie Cutters to cut the sliced fruit into shapes using the paw, dog bone, cat head, and shield cookie cutters.
Add the Paw Print to the Shield by securing the paw print using toothpicks.
Thread each piece of fruit onto the kabob skewer.
Serve and Enjoy!
PAW PATROL:
MOTO PUPS
GET READY FOR A WILD RIDE AS THE PAW PATROL
WELCOMES A NEW FELINE FRIEND!
Available on DVD June 1, 2021
The PAW Patrol pack is back in the brand-new DVD release PAW Patrol: Moto Pups! Available on June 1, 2021, this DVD features the newest member of the PAW Patrol, Wild Cat, and all-new high-speed bikes and high-tech gear from the hit preschool series PAW Patrol, airing on Nickelodeon and produced by Spin Master Entertainment. The beloved pups are in for a wild ride as they stop the Ruff-Ruff Pack from trashing the town, wrangle giant runaway donuts and even gear up for an epic rescue of one of their own—Chase!
For some extra fin-tastic fun, the DVD also includes a bonus episode of Nickelodeon's brand-new preschool series Baby Shark's Big Show!, based on the world-famous pop culture phenomenon. Co-produced with SmartStudy, the global entertainment company behind the beloved children's brand Pinkfong, Baby Shark's Big Show! follows Baby Shark and his best friend William as they journey on fun-filled comedic adventures in their community of Carnivore Cove, make new friends and sing original catchy tunes along the way.
PAW Patrol: Moto Pups will be available on DVD from Paramount Home Entertainment and Nickelodeon Home Entertainment on June 1, 2021. Preorder your copy here (aff link).
PAW Patrol: Moto Pups episodes:
Pups vs the Ruff-Ruff Pack
Pups Save the Donuts
Pups Save the Kitties
Pups Save a Moto Mayor
Rescue at Twisty Top Mesa
Pups Save a Sneezy Chase
Bonus episode:
Baby Shark's Big Show!:
PAW Patrol: Moto Pups synopsis:The pack is back! The Motorcycle Stunt Show comes to town bringing famed stunt cyclist Wild Cat and the troublemaking Ruff-Ruff Pack with it. Wild Cat joins the PAW Patrol to help stop the baddies from trashing the town. Then, the Moto Pups use their tastiest tricks to wrangle giant runaway donuts, save Mayor Goodway and even rescue one of their own—Chase!
Do you think your kids will love the Paw Patrol Moto Pups Fruit Kabobs?