Are your kids back in school? We think your kids would love these back to school easy drawing ideas.
Classes started a few weeks ago and my son is slowly getting back into the swing of things. He started 5th grade this year. So far he is adapting to the new schedule and so far our school district isn't doing much about keeping kids safe from COVID, unlike last year. Masks are encouraged but they aren't mandatory.
I've asked my son to continue wearing his mask throughout the day not only to protect him but it protects me too since I'm immunocompromised. I'm hoping educational decision-makers hurry up and come up with a COVID plan for this school year. While I am not for online schooling or homeschooling for my son, it worked great for others and allowed the kids on campus to have smaller classes. How is your school district handling things with COVID numbers on the rise?
Anyhow, do your kids love to draw? With back-to-school season, I wanted to share with your kids these fun back-to-school drawing tutorials. Your child can learn how to draw items that can be found on your child's school campus.
How to Draw a Book
Books are plentiful around campus, especially in the library. Ask your child to count how many books they see sitting on the teacher's desk, on the bookshelf, or tucked away in their desk. But most importantly, give them a piece of drawing paper and pencil so that they can learn how to draw a book using these back-to-school drawing tutorials.
How to Draw a Pencil
Pencils are a must-have in the classroom and most students keep several in their desk or pencil bag. Even though they come in a wide variety of styles and shapes, we wanted to use this drawing tutorial to teach your child how to draw a basic pencil.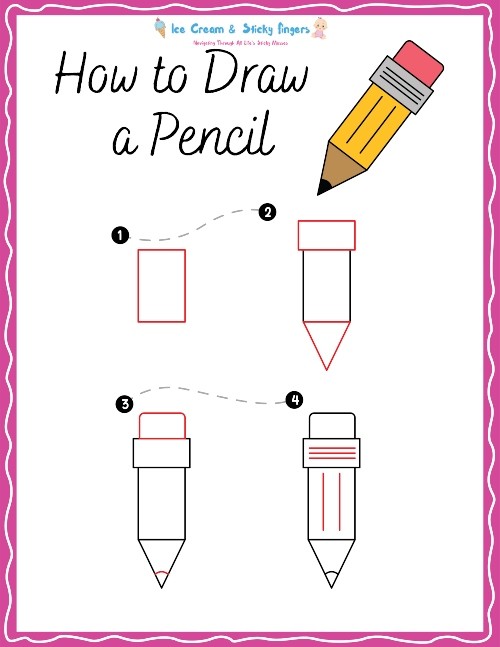 How to Draw a Backpack
Kids typically start carrying a backpack to and home from school starting in kindergarten. My son always comes home with a messy backpack and I typically have to clean it out so doesn't get too heavy. Speaking of which, I need to check his backpack tonight. But thankfully, the drawing tutorial doesn't show a backpack stuffed to the brim or overflowing with papers. 🙂
How to Draw a World Globe
Does your child have a globe in their classroom? Globes tend to take up valuable space in the classroom and teachers rely on flat maps to teach students new places. Have your child take a look around the school and see if they can spot a world globe? Check for one in a social studies classroom or even the library.
How to Draw a School Bus
The school bus is one of the most popular school icons. The school system has bussed kids who don't live within walking distance to the school so that parents could go to work. Does your child ride the bus to school?
How to Draw a School
Schools have drastically changed over the last several decades and so have building designs. However, the building doesn't make up the school rather the kids who attend make it a school.
How to Draw a Pair of Scissors
Does your child know how to properly cut paper with a pair of scissors? Being able to use scissors and scissor safety should be mastered prior to going to kindergarten. Now, let's take a look at how to draw a pair of scissors.
I hope that your kids will enjoy these fun back-to-school drawing tutorials. Drawing is a wonderful skill to acquire and it could even lead to a possible career or hobby one day. The tutorials make learning how to draw objects super easy for kids to recreate.
Does your child enjoy drawing? Do you think your child will enjoy learning how to draw a few of the popular back-to-school items?