Whoever decided that a long summer break is needed between school years is a hero to grade school kids and a not so nice name to their parents. Summer can be long, and some parents are stuck wondering what to do with their kids.
One easy solution is to let them play outside. Let them go hang out with their friends, have adventures, and just be on the sun. Those are memories that will last a lifetime for your kids.
5 Delicious Treats to Eat This Summer
Make sure they are drinking lots of water if they spend time outside, nothing like dehydration to ruin your vacation. Here are some ideas for some treats that will also help keep them cool as they are out playing!
Snow cones
Snow cones are a summer classic! They are a delicious snack, and if you get the right syrup, they are not that bad for you. There are some fairly cheap machines you can buy to grind the ice, and then you just add the flavoring syrup and you are good to go.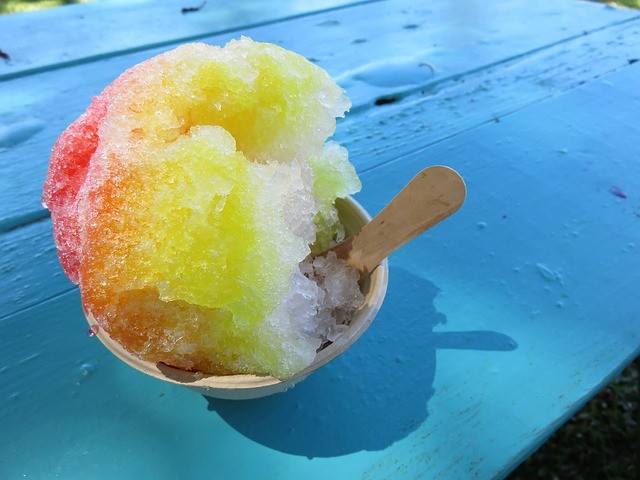 Most of us probably imagine the classic red and blue, cherry and blue-raspberry flavored, snow cones. There are a ton of options of flavorings so your kids can have a fun time trying out new flavors all summer.
Lemonade Popsicles
I have a very hardcore association between lemonade and summer. Growing up it was a common drink in my house, and a cold glass of lemonade after coming in from playing outside was my favorite.
You could go normal lemonade, or you could turn them into popsicles. It is easy to buy popsicle molds or to simply use a deep ice cube tray and put popsicle sticks in during the freezing process. Lemonade is very easy to customize with different flavors as well, and the variety is a huge bonus.
Slushies
Slushies are different than snow cones. For those of you unfamiliar, a snowcone is ice ground up with flavoring and then poured on top. It is eaten with a spoon. A slushy is a finely ground-up ice that is heavily flavored by thoroughly mixing the flavor throughout the ice. It is consumed through a straw.
Slushies are a great treat and there are a bunch of different flavors and varieties. If you have a Sonic nearby go check their slushies out, you won't regret it.
Ice Cream
Whether it be the classic ice cream cone or a packed sundae, this treat is sure to get everyone excited.
A fun idea is to do an ice cream sundae bar. Get a lot of toppings and let your kids decide how they want to build their glorious frozen dairy creation. This would definitely not be a common thing, but the kids would absolutely love this.
S'mores
Okay…this treat will not keep anyone cool. Nor will making it. S'mores are a delicious treat made over a campfire. Personally, if I am going to be outside around a fire I would rather it be when it is warm outside. Is that weird? If it is cold I would rather just be inside.
Lots of people like to build fires and roast marshmallows during the summer. It is a fun activity to do later in the evening, and if you live in a region overtaken by bugs, this will help keep them away from you while outside. Kids love s'mores and you can find ways to get creative while making them. A friend of mine would always make s'mores using soft cookies instead of graham crackers and Reese's Peanut Butter Cups instead of just chocolate. They are heavenly, though I do not advise eating very many.
Conclusion
There are lots of options for providing your kids delicious treats over the summer. I am realizing that I made suggestions with an awful lot of sugar. As our friends at Grove City Dental say, "Cavities are an all-too-common problem" so make sure your kids brush those teeth well, yeah? Summer is a time for fun, let your kids make the most of it.
Which one of these 5 delicious treats to eat this summer is your favorite?