Are you ready for Spring? And what better way to celebrate spring than with these mini flower pudding pie. Spring is here and the trees are blooming. I love this time of year because it isn't too hot or too cold to spend time outdoors. In Texas, during the summer months, it is way too hot to spend time outdoors unless you are at the pool, lake, or any other way to cool off. It is now time to celebrate the changing seasons and enjoy the nice weather. Today, I wanted to share with you these cute a-flora-ble mini flower pudding pie recipe inspired by Nick Jr. Spring Is Here. Nick Jr. Spring is Here is now available on DVD, check it out below.
Ingredients Needed to Make the A-Flora-Ble Mini Flower Pudding Pie Recipe
Pick up the following ingredients from the store:
1 Package of Unbaked Pie Crusts
12 Vanilla Pudding Cups (1 for Each Color)
Powdered Sugar
Food Dye
Spring Sprinkles
Cooking Spray
Mini Muffin Pans
4 Inch Flower Cookie Cutter (aff link)
How To Make A-Flora-Ble Mini Flower Pudding Pie
Preheat your oven to 350 degrees and spray your mini muffin pans.
Unroll the pie crust and cut out your flowers using the flower cookie cutter.
A 4-inch flower cookie cutter works best for this project.
Reroll the scraps and cut out more flowers. You should be able to get 12 flowers out of the 1 package of unbaked pie crust.
Place the flowers in the mini muffin tins.
Press the flower into the muffin tin and gently back around the top of the muffin tin.
Gently prick the bottoms of the flower with a fork.
Bake the flower pies for 5-7 minutes or until golden around the edges.
While your pies are baking, take a pudding cup and dye the pudding using 1-2 drops of food coloring. You will want one of each color. Use more pudding cups if you are making more than 4 services.
Remove the pies from the oven and let them cool.
Fill cooled flower pies with pudding and top with spring sprinkles.
Sprinkle with powdered sugar.
Enjoy!
NICK JR. SPRING IS HERE!
RING IN SPRING WITH A COLLECTION OF NICK JR. FAVORITES!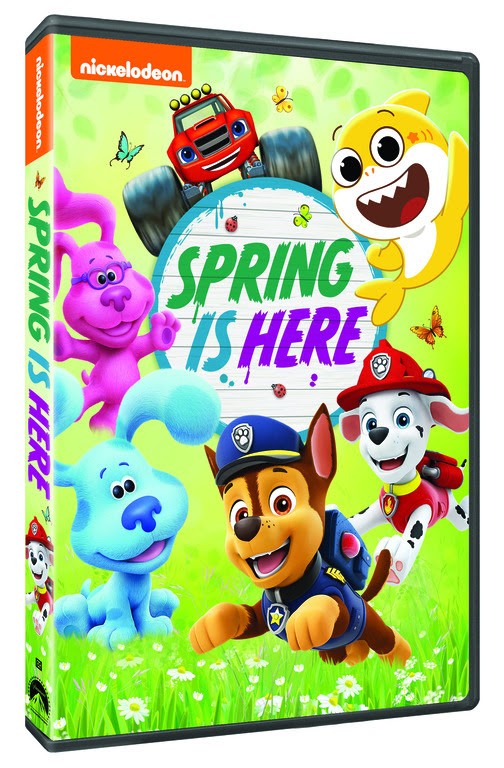 Available on DVD April 5, 2022

LOS ANGELES–March 7, 2022 – Join your favorite Nick Jr. characters as they play their way into Spring in the brand-new DVD, Nick Jr. Spring is Here! This collection features six episodes from Nick Jr.'s biggest shows, including PAW Patrol (produced by Spin Master Entertainment), Blue's Clues & You!, Baby Shark's Big Show!, and Blaze and The Monster Machines.

Nick Jr. Spring Is Here! will be available on DVD from Paramount Home Entertainment and Nickelodeon Home Entertainment on April 5, 2022. Buy it now on Amazon.

Nick Jr. Spring Is Here! episodes:
PAW Patrol: Pups Save a Magic Trick
PAW Patrol: Pups Save the Butterflies
Blue's Clues & You!: Spring is Here!
Blue's Clues & You!: Growing with Blue
Baby Shark's Big Show!: The Rainy Day Round-Up
Blaze and The Monster Machines: The 100 Egg Challenge
Nick Jr. Spring Is Here! synopsis:
Spring is here with Nickelodeon and friends! Play an outdoor game of Blue's Clues & You!, learn about the seasons and how everything grows in different ways, like fruits, vegetables, and even you and Blue too! Watch the PAW Patrol hop into action to save the Adventure Bay Easter Festival from wild bunnies. Plus, when an underwater storm rains on Baby Shark and William's fun, they discover how to have fun indoors.
Are you excited that spring is here? Will you make these A-Flora-ble Mini Flower Pies for your kids?