Happy Halloween!
Today, I wanted to share with you these fun Halloween Dot to Dot Activity Sheets for your kids. With Halloween, this coming weekend, the kids are getting anxious and are ready to go trick or treating. Thankfully, this year, Halloween falls on a Sunday night so there is no rushing home quickly after a long workday to get your kids to eat a quick dinner, change into their costumes, and get out the door by 6 pm when Halloween activities usually begin.
Dot to Dot Activity sheets is a great way to help your child work on learning their numbers as they draw a fun picture. If your child only knows their numbers 1-10, you may have to help them with the activity sheets that go beyond the number 10.
Vampire Dot to Dot Activity Sheet
Connect the dots to draw this cute Halloween Vampire. After you connect all the dots, you can even color your Vampire.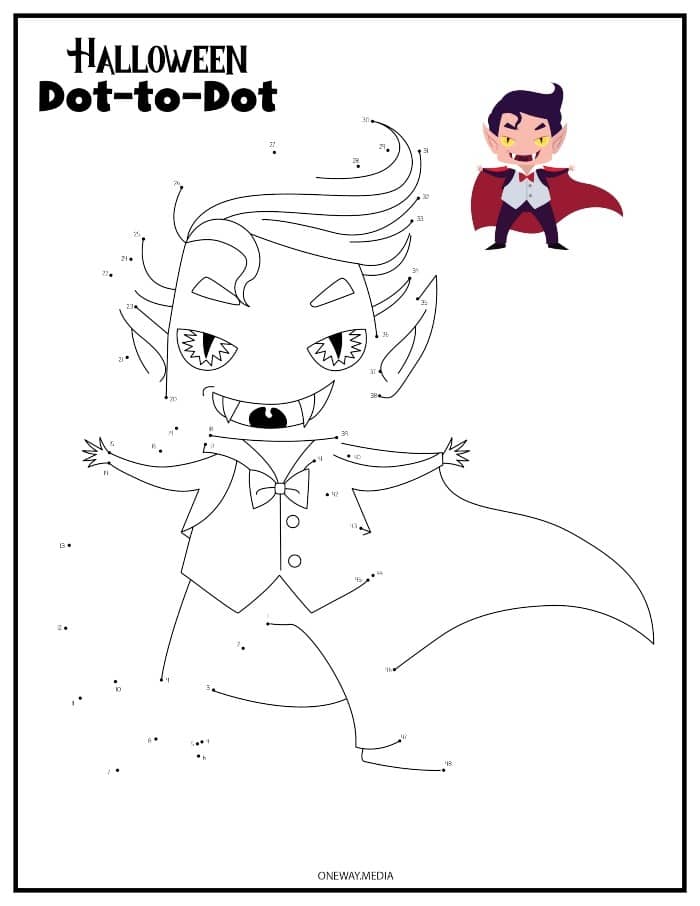 Ghost Escaping a Pumpkin Dot To Dot Activity Sheet
Connect the dots and make this fun ghouling ghost escape out of the pumpkin.
Grim Reaper Dot to Dot Activity Sheets
Connect the dots to draw the grim reaper. Don't forget to color him too.
Frankenstein Dot to Dot Activity Sheets
Enjoy connecting the dots as you draw Frankenstein and then color him.
Halloween Pumpkin Dot to Dot Activity Sheets
Pumpkins are one of the most popular Halloween decorations. Growing up carving a pumpkin was always one of my favorite activities. But as an adult, I am guilty of not carving any lately with my kids. This has to change and I'll have to go buy a pumpkin for me and little man to carve. But for now, complete the dot to dot pumpkin activity sheet and decorate your pumpkin.
Witch Dot to Dot Activity Sheet
Have you ever pretended to be a witch and ride the broom? Give it a try if your parents approve. If not, connect the dots and color this witch who is riding on her broom.
Are your kids excited that Halloween is this weekend? My son was super excited about Halloween. I'm not sure what he is doing this year as he is with his dad this year. I'll grab some of our favorite candy since I can't take him Trick or Treating.
Do your kids enjoy dot to dot activity sheets? Will you download these free Halloween Dot to Dot Activity sheets for your kids?