Schools are closed for several weeks and some have decided to shut their doors until next fall. With kids home all day now, you probably have heard them complain about being bored so I came up with 10 screen free boredom busters for kids. After all, they can't go over to their friends or neighbors' houses, so they are likely to feel isolated.
Isolation can be difficult but with technology, they can still connect with their friends outside of the classroom. My kids are participating in an online education program as the district is still working out the kinks. Once they got homework assignments to do, my kids aren't so bored now. But if your kids aren't participating in online classes, here are some great suggestions to keep them from being bored for the remainder of the quarantine.
My kids are always happy when they have technology available to use; however; excessive screen time should be avoided if at all possible. I wanted to share some screen-free boredom busters for kids.
Coloring
Coloring has many benefits other than curing boredom for an hour or so. With the coronavirus and quarantine, it is likely that your child may be experiencing anxiety, depression, or both. It's normal. But grabbing a coloring book and your favorite crayons, gel pens, or colored pencils is a constructive way to deal with anxiety.
Work Puzzles Together
Next time you are at Walmart picking up essentials, grab a huge puzzle for the family to sit down and work on together. Dedicate an hour each day to spend together working on it. Use this time to come together as a family to talk about daily concerns and fears. This is a scary time for everyone and sticking together as a family is important.
Start a New Craft Project
Craft projects are a great way to tackle boredom. Plus, it gives your child something new to learn. Help your child find a new craft project to try during the quarantine. Here are a few examples: latch hook, cross-stitch, build race cars, make a tinfoil river and race boats, rock painting, painting, etc. If you need ideas, Pinterest is a great place to start when it comes to looking for new craft projects for kids.
Have Fun in the Kitchen
You can't go wrong by asking the kids to help you bake a fun dessert or a new dish to try. Cooking is a great skill that every child needs to learn, especially since schools have eliminated home economics from the curriculum. Just think of all the math, science, and reading skills it takes to bake a dish. Even if your kids grumble at the thought of making something fun in the kitchen, little do they know that they are also learning too.
Read a Book
Books are a great way to keep your child from staring at a screen for hours on end and wasting the day playing video games. Reading helps stimulate the brain, improves their memory, increases vocabulary knowledge, enhances their creativity, and helps improve their writing skills.
Parents, you might have to bend the rules on this one. Libraries are closed due to the coronavirus at this time but this won't be an issue forever. But during the coronavirus quarantine, you want your child to have access to books. They may have to use a tablet or smartphone in order to read a book using the Kindle or Amazon app.
Also, don't let money be an excuse to prevent your child from accessing online books. Most local libraries have ebooks available for check out or you can find plenty of free books to choose from. You will have to have a library card in order to check out books from the lending online library. So next time you visit the library in the future, make sure you ask about their online library of ebooks so that they can keep reading throughout the summer months too.
Play Board Games
Dust off your favorite board games and invite your kids to play with you. Board games are not only a great boredom buster but it is also a great way to spend time together as a family. Parents, during the chaos of life, you can make it a priority to carve out this time with your kids. They will remember the fun times that you spent together and you should make this a weekly tradition.
Find and Experiment with Homemade Science Projects
The kitchen is filled with a ton of opportunities to have your own science lab. Sorry, mom, I hope suggesting this idea doesn't upset you but hands-on learning makes it fun. Pinterest is filled with tons of ideas from making homemade playdoh, slime, paints, and so much more. Here are a few of my favorite ideas:
growing crystals
bouncy balls
how to make rock candy
sensory bottles or boxes
These are just a few ideas. Like I mentioned already, Pinterest is full of ideas and with school out, students still need to learn how to apply concepts. Don't be afraid to ask your child's teacher for ideas on their current material too.
Help with the Chores
Have the children pitch in and do some of the household chores. Kids need to learn these valuable life skills before they graduate high school. So if your children don't help out around the house, now would be the perfect time to get them to chip in and help. After all, with everyone at home, there is more dishes to be done and more clutter to contend with on a daily basis.
Draw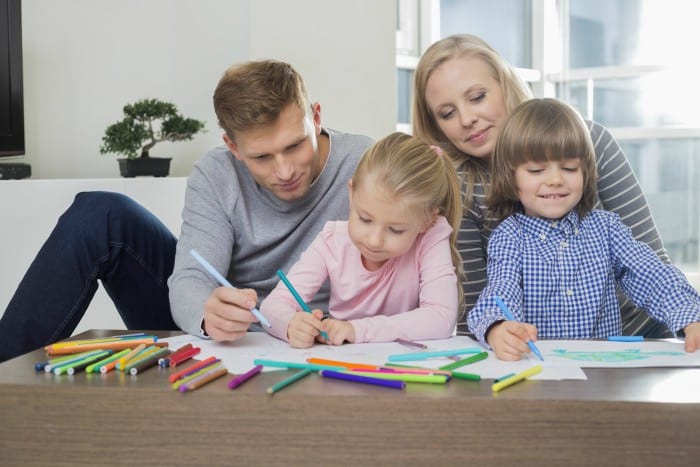 Does your child enjoy drawing? Give them a blank drawing pad and a pencil and let their imagination run wild. Drawing not only gives your child something to do for several hours but it is also known to help relieve stress or anxiety. If your child hasn't ever tried drawing, you can get them a book on how to draw here (aff link).
Plant a Garden
Now is a great time to start a garden with your kids. Home improvement stores have still been open during the quarantine so you should be able to get the materials needed. If you live in an area that is still too cold, you can start planting seeds indoors, you can always use a window sill greenhouse (aff link) so that you can transfer the plants as it warms up. You can also grow certain foods in potted plants if your landlord doesn't allow you to have a garden.
Are your kids already whining that they are bored since they have been quarantined at home or while on summer break? Isolation and being forced to stay at home due to quarantine or because your parents have no money to spend daily during the summer. Kids tend to go overboard with technology and I wanted to come up with some screen-free boredom busters.
Do you have any additional screen-free boredom busters for kids?