Are you looking for some fun St. Patrick's day treats to take to your child's classroom or to work? Last week, we decided to make some St Patrick's day clover cookies uses cutout sugar cookies and decorate them with green royal icing. For these cookies, you can make your favorite sugar cookie recipe. The one that I used, didn't seem sweet enough to me so I will be looking for the perfect recipe.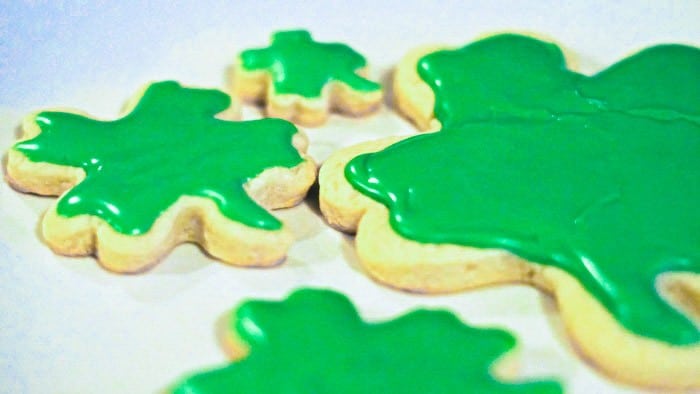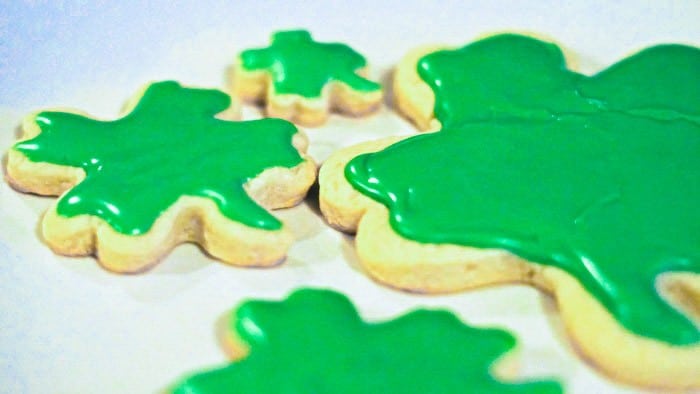 In the past, I've always struggled with rolling out cookie dough that had the same thickness. After seeing a professional cookie maker rolling out her dough, I noticed that she was using silicone measuring dough strips to make her cookies the same thickness throughout. I didn't have a rolling pin, so I opted to buy a rolling pin that has the thickness rings included. You can buy it here (aff link).
Royal icing is a bit tricky to figure out but if I can achieve it then so can you. The first time that I made royal icing, it was a bit too runny and it ran off the cookies. This time, I adjusted the powder sugar content and it turned out so much better.
This recipe for Royal icing calls for using raw egg whites but I opted to use the pasteurized egg whites. I'm always super careful when it comes to food safety. Even though egg whites aren't supposed to contain salmonella or other food-borne illnesses, it is still possible for the yolks to cross-contaminate your egg whites.
How to Make Royal Icing With Pasteurized Egg Whites
How to Make Royal Icing With Pasteurized Egg Whites
Ingredients
6

cups

cups Powder Sugar Start with 6 cups and add more depending on the consistency.

1/2

cup

Pasteurized egg whites

1

tsp

cream of tater helps stabilize the icing

1

tsp

vanilla or flavoring

Wilton leaf green gel food coloring
Instructions
Measure and pour pasteurized egg whites into your mixing bowl.

Add vanilla, cream of tater, and food coloring. You only need a small amount of gel food coloring.

Slowly add the 6 cups of powdered sugar and begin mixing the royal icing on low-medium speed until you get a smooth consistency.


Use a toothpick to test the consistency. When you use the toothpick to separate the icing, it should take about 15 seconds to come back together. Or you can use a spoon, knife, or a whisk and lift out of the bowl. If the icing holds together in a peak, it is the correct consistency.


Adjusting the icing to the correct consistency. If the icing is too thin, slowly add more powdered sugar until you reach the desired consistency. Add a small amount of water if your icing is too thick. Use the mixer on low-medium to stir in the additional powdered sugar or water.


Cover immediately until you are ready to use it.


Pipe the outside edges first and allow the icing to dry. Then come back and use the flood technique to fill your pattern.


Allow the icing to fully dry before placing them in a sealed container. If the icing isn't fully dry, the cookies will end up sticking together.

How to Make Royal Icing Using Pasteurized Egg Whites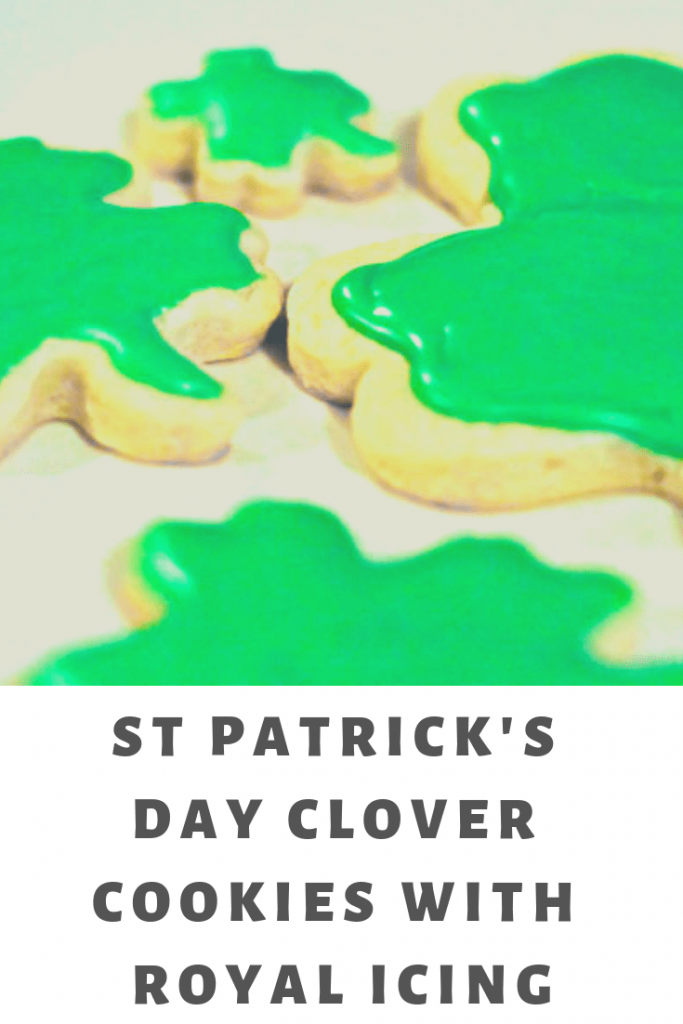 How do you celebrate St. Patrick's Day? Have you ever made St Patricks's Day clover cookies with royal icing?