Let's make these Nightmare Before Christmas Sally sugar cookies. They are inspired by Sally in the movie The Nightmare Before Christmas. The movie is a 1993 American musical with a dark twist. Jack Skeleton, from Halloweentown, opens a portal into Christmastown. He wants to bring Christmas to Halloweentown and will do anything to make it happen, even if he has to kidnap Santa.
The coffin-shaped sled is pulled by skeletal robo-reindeer to gifts that are made to terrify the recipients or shrunken heads, or snacks that devour Christmas trees. Things don't turn out the way Jack wishes they would have. He even had the military called on him to shoot down the sled from the Christmas Eve skies.
Sally is one of the characters in Nightmare Before Christmas. She is stitched together with various pieces, including her dress. These Nightmare Before Christmas Sally Sugar Cookies are inspired by her stitched-together dress.
Ingredients
You will need to purchase the following items:
1 cup unsalted softened butter  
1 cup sugar  
1 1/2 teaspoons vanilla extract  
3/4 teaspoon baking powder  
2 1/2 cups flour  
1 large egg  
3/4 teaspoon salt  
Yellow, blue, green, and red gel food coloring  
Black Decorating Icing 
Directions
Combine butter with sugar and beat until creamy.
Add egg and vanilla extract, then beat until completely combined.
In a separate bowl, combine the flour, baking powder, and salt.
Gradually add dry ingredients to wet ingredients until completely combined.
Separate into three sections.
Add mostly red gel coloring until desired saturation is reached, then add a little blue to the first section. Add only yellow to the second section. Add half and half green and blue to achieve a teal color for the last section.
Wrap and let chill in the refrigerator for at least an hour.
Once the dough has chilled, preheat the oven to 375.
Scoop little balls of each color of dough in a random pattern onto a floured surface.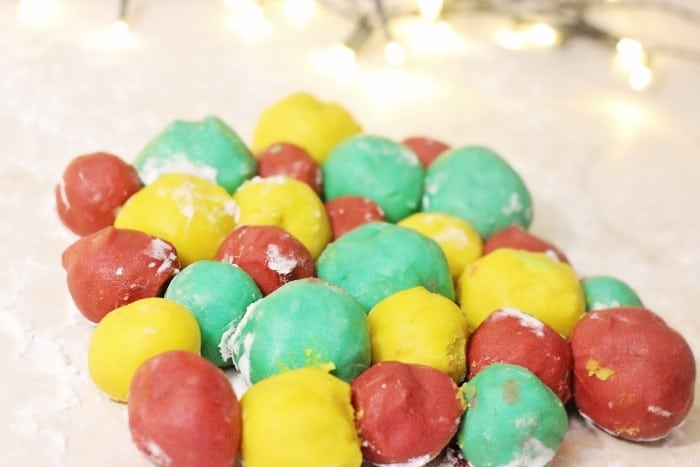 Roll out dough and begin cutting out shapes with your cookie cutter.  You can use the Mickey Cookie cutter (aff link) or the circle.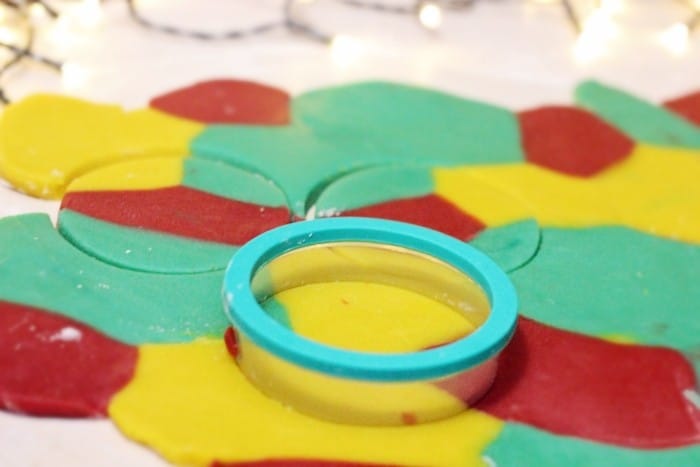 Press any leftover scraps together and roll to make more.  
Bake 8 to 10 minutes or until edges are light golden brown 
Allow time to cool. 
Use decorating icing to add in the stitching where the colors meet. 
Enjoy!
These cookies were inspired by Sally in the Nightmare Before Christmas. She is a humanoid ragdoll created by Dr. Finkelstein and she was put together with various pieces of material, including her dress. These cookies were inspired by her dress.
Have you seen the Nightmare Before Christmas movie yet? Will you make these fun Nightmare Before Christmas Sally Sugar Cookies to eat while you watch the movie?